Leslie Wright – Candidate for Woman of the Year 2010!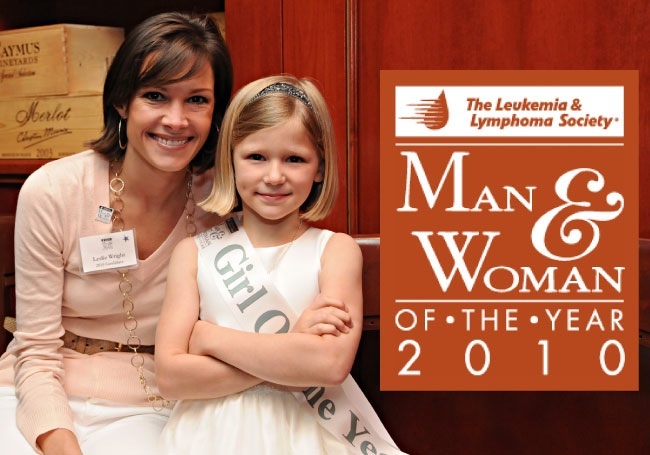 This is Kate Hansen. She was diagnosed with Acute Lymphoblastic Leukemia in April of 2007. Today she's a survivor at 7 years old because of the research enabled by generous donations given to find a cure for blood cancers. Leslie Wright, Vice President of Resource, is privileged to be a candidate for this cause in her honor.
A month ago Leslie accepted an invitation from a great friend to become a candidate for The Leukemia & Lymphoma Society's (LLS) Man & Woman of the Year campaign. The significance it's had on her life is hard to describe – She's discovered how many people she knows who've been affected by blood cancers. But new research protocols enabled by fundraising dollars are literally saving lives on a daily basis.  Even the smallest contribution can make a big difference.
Did you know?
Every 4 minutes someone new is diagnosed
Every 10 minutes someone loses the battle against blood cancer
Leukemia is the #1 cancer among children
This campaign to be Woman of the Year is all about dollars raised. Every dollar donated is a vote for Leslie, but much more significantly a vote to cure cancer.
Please join Resource in supporting Leslie with this ambitious effort.  She has until June 17th, the Grand Finale, to raise her goal of $15,000. It's a big number, but there are so many different ways you can help:
Cash donations – donating is quick and easy on my campaign webpage
Purchase tickets – join us for the Champions of Hope Gala June 17th at the new Loews Hotel in Midtown: $1000 per table or $100 per ticket – to purchase tickets: http://www.mwoy.org/ga/localchapter/finale
Program Ad – Buy an ad in the Champions of Hope Gala Program: 1/2 page: $250, full page: $500. Send me an e-mail for more information! leslie@resourceatlanta.com
Silent Auction donations – do you have a second home, VIP event tickets or a business that could donate a product or service? Every dollar raised or silent auction items count towards the campaign. Send me an e-mail for more information!leslie@resourceatlanta.com